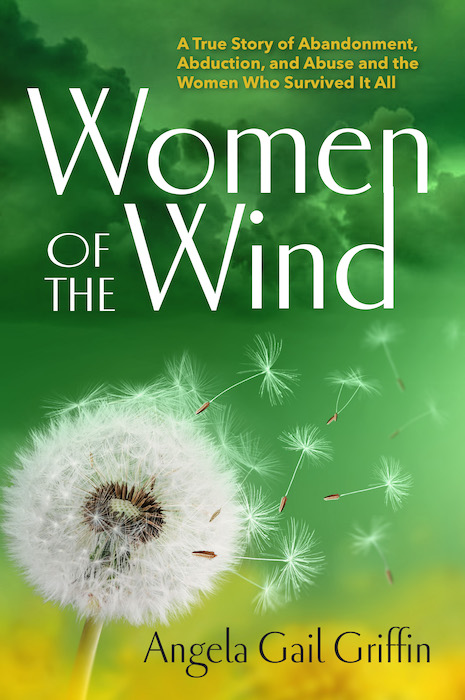 Mildred May Robinson suffered from undiagnosed, untreated mental illness after her birth mother did something horrible to her when she was an infant. Rescued and loved by her adoptive family, Mildred May lived an idyllic childhood until she married at seventeen, and her life began to spiral downward.
     While Mildred and her six children lived in squalor, her birth mother lived a life of luxury and privilege unscathed by the inhumane act she committed upon her child. Mildred never spoke of her abuse by her birth mother and the cause of her mental illness. Only her adult daughter did.
     Women of the Wind is the gripping true story of three generations of women born into dire circumstances like dandelion seeds blowing aimlessly. Possessing the inherent strength to endure and begin anew, the women of the wind not only survived these harsh conditions, they grew and flourished like beautiful dandelion flowers.
     You'll feel connected to Mildred May's family through Angela Gail Griffin's memorable anecdotes accompanied by thirty-two photographs. The adventures of Mildred's youngest daughters, Puddin and Melissy, bring joy to the story as they and the other women of the wind find their way to a better life.
Praise for Women of the Wind
"I was in awe of the amount of research and devotion the author put into this book. She writes with such joy and ease and grace. Readers will be captivated by the astounding stories of Mildred, Heber, and Lula!"
— David Aretha
award-winning author and editor
"Lucky is the family that has a story-keeper who listens carefully to the elders and then curates the stories to ensure their survival. This family history is a blessing to kinfolk and professional historians alike, with its archetypal survivors, helpmeets, and rogues mean as a snake — all presented before the backdrop that was twentieth-century Georgia history. This book sets some important stories and some important precedents: the family that is honest with each other about the past is better equipped for human flourishing in the future."
— Cynthia Shearer
award-winning author of two novels set in the South, The Wonder Book of the Air and The Celestial Jukebox